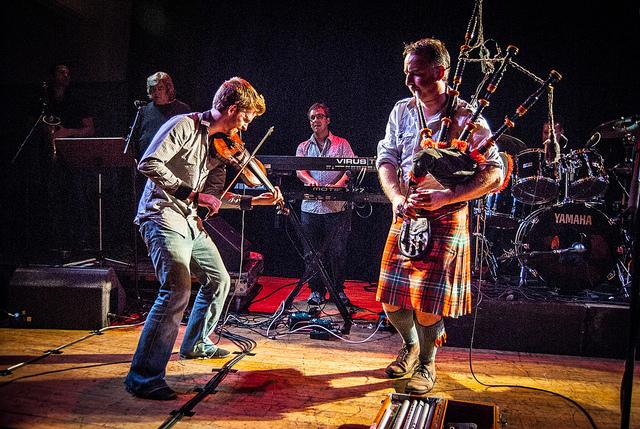 The Peatbog Faeries play the Platform at Morecambe on Saturday 25 October.
Hailing from the Isle of Skye, the Faeries are the figurehead trailblazers of the Celtic Dance Music renaissance. Drawing upon a myriad of influences from traditional jigs and reels through jazz, hip hop, reggae and more, they take traditional Scottish music and bring it fresh-faced and breathless into the 21st century.
They are Peter Morrison (pipes and whistles), Ross Couper (fiddle), Tom Salter (guitar), Innes Hutton (bass, percussion) Graeme Stafford (keyboards) and Stuart Haikney (drums). Ross Couper played with Tom Oakes at the Furness Tradition festival in 2011. Their sets were stunning.
The Peatbogs have toured the world never failing to fill the floor and delight the crowd. This is high octane Celtic dance music as you've never heard it before. Be prepared to dance.
They have twice been voted "Best Live Act" at the Scottish Traditional Folk Awards, in 2005 and 2008. In 2012 the band were nominated for "Best Live Act" at the BBC2 Folk Awards.
Tickets are £15/£14. For more information call the Platform on 01524 582803 or check the website.