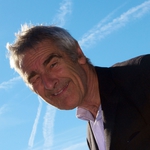 Having seen Nic perform at the Shepherd's building in Bowness shortly before his road accident, this documentary is not to be missed.
The programme follows the return to performing of the celebrated folk musician Nic Jones, whose career was cruelly cut short after a car crash in 1982.
Apart from a couple of tribute concerts, Nic Jones disappeared from the public eye for thirty years. Then in the summer of 2012, encouraged by friends and family, Nic returned to the stage to play several festival performances accompanied by his guitarist son, Joe Jones and keyboard player Belinda O'Hooley. The concerts were a resounding success and for his old and new fans, a moving comeback for their musical hero.
Featuring contributions from BBC Radio 2 Folk Awards winners Jim Moray, Eliza Carthy, Sam Carter and Blair Dunlop, plus American singer/songwriter Anais Mitchell, folk legends Martin Carthy, Martin Simpson, Chris Wood and ex Fairport Convention founder Ashley Hutchings.
It is also being repeated on September 28th at 2.00 am and the 30th at 2.30 am, so set your recorders.